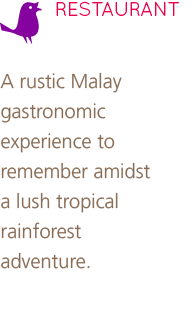 A rustic Malay gastronomic experience to remember amidst a lush tropical rainforest adventure. This is how one could describe the casual dining experience over at KL Bird Park's very own Hornbill Restaurant & Café in just one sentence.
Located within the Hornbill Park of KL Bird Park, the distinctive yet subtle Malay Kampung House architecture of the restaurant certainly contributes to the overall warm and rustic dining experience. Despite having old world charm, the restaurant is fitted with all modern amenities one would need. Hornbill Restaurant & Café is set –up as a three-tiered restaurant: upper (max. capacity: 100 pax), middle (max. capacity: 100 pax) and a lower deck (max capacity: 60 pax).
Other than being surrounded by towering green trees & breath-taking view of the Kuala Lumpur skyline, you might also be visited by our majestic Rhinoceros Hornbill and her other feathered friends while enjoying your meal at the restaurant's protruding open verandah. As one peruses through the elegantly designed yet descriptive menu, he or she may find that there's something for everyone including the most discerning palates. The restaurant offers a wide selection of local and western favorites, each finely prepared by the restaurant's highly experienced chefs.

Hornbill Restaurant & Café is the ideal venue to entertain family, friends and clients, be it for lunch, dinner, business meetings and small parties to wedding receptions.
So do pay us a visit, experience the real pleasure of dining while relishing the beauty of nature...