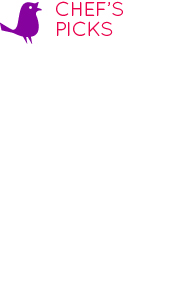 Salad Nicoise
RM 18.90

A combination of green beans, tuna, black olive, quartered boiled eggs, cherry tomato & onion rings, mix green salad and topped with balsamic dressing.

Fried Banana (Pisang Goreng)
RM 5.90

The most popular Malaysian's snack.

Chicken/Beef Burger
RM 25.90

Homemade patty, gherkin, tomato, slice cheese iceberg lettuce topped with black pepper sauce. Served with french fries, coleslaw and side salad.

Nasi Lemak
RM 16.90

Fragant coconut rice with chicken curry, sambal squid & acar rampai (pickled vegetables).

Fried Mee "Mamak" Style
RM 16.90



Stir fried yellow mee with beancurds, eggs, chicken, seafood & potatoes in tomato & dark soya sauce.




Grilled Lamb Cutlet
RM 46.90

Tender lamb cutlet served with black pepper sauce, sauteed vegetables & wedges.

Club Sandwich
RM 26.90

Egg, slice cheese, turkey ham, iceberg lettuce & tomato. Served with french fries and side salad.

Crispy Golden Combo
RM 15.90

Crispy fish fingers & golden nuggets with fries.
* All prices are subject to 10% service charge & 6% Goods & Services Tax (GST).
* All illustrations are for display purposes.