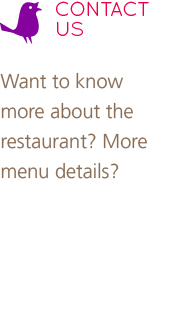 Want to know more about the restaurant?
More menu details? Interested to know more about our buffets? Or you just need more info of our current promotions?

For enquiries & reservation, please do contact:

Hornbill Restaurant & Café

Person in Charge : Mr Eric Lee
Operating Hours: 9am to 8pm daily

Address: 920 Jalan Cenderawasih, Taman Tasik Perdana, 50480 Kuala Lumpur.
Tel: 03 – 2693 8086
Fax: 03 – 2273 5428
Email Address: info@klbirdpark.com