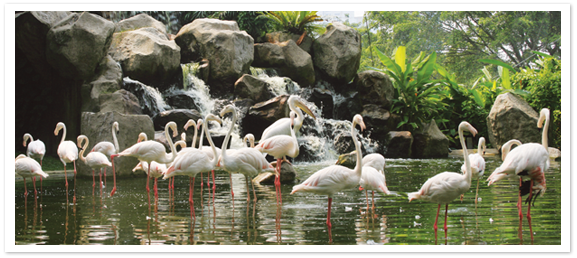 Definitely one of the best sites to be enjoyed while you are in the park. Also situated in Zone 1 of KL Bird Park, catch a glimpse of our Greater and Lesser Flamingos gracefully sun-bathing in a beautifully landscaped pond complete with a scenic man-made waterfall.
One of the special features of these gregarious wading birds originated from Africa is their ability to stand on one leg, and the characteristic pink colouration of their feathers is caused by their beta carotene-rich diet obtained from the pond they are living in.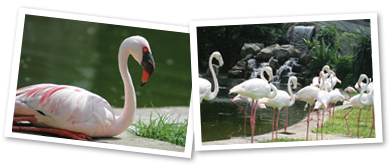 At this Flamingo Pond, you can also observe our majestic pelicans, another splendid yet curious bird species with its enormous bill and awkward heavy walk. This pond is also a favourite spot for other wading birds inhabiting the free-flight aviary especially early in the morning. You can clearly enjoy this picturesque sight while taking a break at our F&B kiosk, the Flamingo Kiosk.