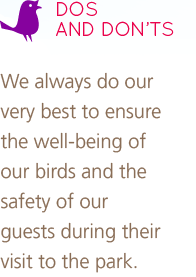 We always do our very best to ensure the well-being of our birds and the safety of our guests during their visit to the park. Thus, we do hope that you will take note on these safety precautions to ensure your visit to KL Bird Park as being a pleasant and memorable one.

HELP US TO KEEP THE PARK CLEAN
Food wrappings, empty cans and bottles, cigarette buds and other debris not only will give an unpleasant sight to the park; they can also be hazardous to the birds if accidentally consumed. Please help us to keep the park clean at all times by utilizing the litter bins provided in the park.
PLEASE DO NOT DISTURB THE BIRDS
Some birds may have sharp claws and bills, while others can bite hard without warning. Respect them and do not touch, disturb, throw objects or shout at them at any time.

PLEASE DO NOT ATTEMPT TO FEED THE BIRDS
We strictly monitor the diet of our birds. Wrong type of food may cause serious problems to the birds. Do not attempt to feed the birds on your own without supervision by our authorized personnels.

PLEASE DO NOT TAKE HOME ANY 'SOUVENIRS'
Everything in the park is the property of Kuala Lumpur Bird Park. Please do not pick flowers, collect feathers, damage plants or catch the birds especially by pulling their feathers.

WATCH YOUR STEP
The pathway in some parts of the park can be slippery especially after rainfall. Please watch your steps and be extra careful when walking in the park. We also recommend that you wear proper footwear when planning to visit the park.