Destination
Zone 1
Experience the tranquility of a lush tropical rainforest once you step into our free-flight walk-in aviary.
The Free-Flight Walk-In Aviary
---

Experience the ambience of lush green tropical rainforest once you step into our free-flight walk-in aviary.

Reputed to be one of the largest in the world, this free-flight walk-in aviary comprises of Zone 1 and Zone 2 of the park. You will find various bird species flying freely and living together in harmony and balance, creating a unique ecosystem of its own in this semi-natural environment.

Be amazed by the courtship display of the Indian Blue Peacock with its magnificent, colourful, 5-feet train.
Also, get a glimpse of the Crowned pigeon, the largest pigeon species in the world having the body size of a turkey. Or if you are lucky enough, you will have the chance to see how Yellow-billed Storks gather fallen twigs to build nests in their nesting colonies, and last but not least, doves, egrets and ibises feeding joyfully at the various feeding points.

Do not miss the Free-flying Birds Feeding that takes place in this part of the park at 10.30am.
Love Aviary
---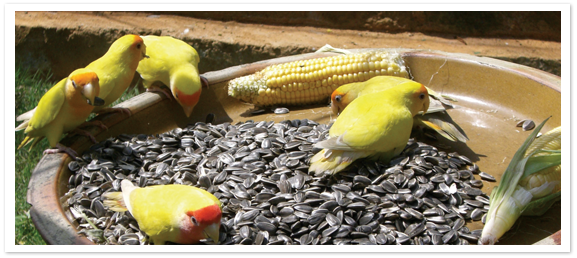 Once you step into our first of many mini aviaries in the park, located at the main entrance area, you will be greeted by our naughty Indian Ring-necked Parakeets.
The Love Aviary got its name from the main 'tenants' of this aviary, the Lovebirds. The name Lovebird stems from these parrots' strong, monogamous pair bonding and the long periods of time in which paired birds will spend sitting beside one another.
Besides the greatly loveable small parrots, this aviary also houses the colorful Budgerigars, Sun Conures and Cockatiels.
Brahminy Land
---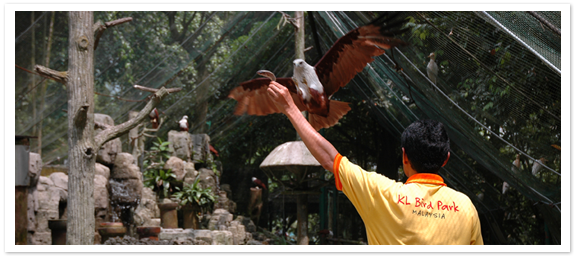 Located in Zone 1, the Brahminy Land exhibits our collection of Brahminy Kites, one of the popular local bird of prey species in Malaysia.
These magnificent birds give out sorrowful, mewing calls especially during late evenings.
Brahminy Kites forage over both water and land, feeding on small preys such as fish, rodents and even insects.
Don't forget to catch our Eagle's Feeding show which takes place at Brahminy Land at 2.30pm daily.
Flamingo Pond
---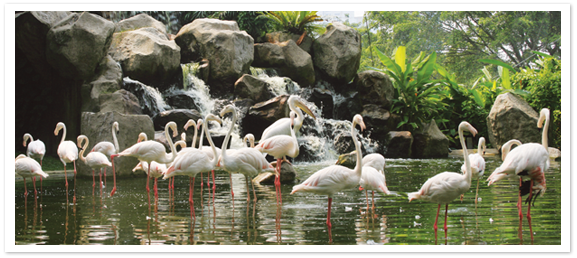 Definitely one of the best sites to be enjoyed while you are in the park. Also situated in Zone 1 of KL Bird Park, catch a glimpse of our Greater and Lesser Flamingos gracefully sun-bathing in a beautifully landscaped pond complete with a scenic man-made waterfall.
One of the special features of these gregarious wading birds originated from Africa is their ability to stand on one leg, and the characteristic pink colouration of their feathers is caused by their beta carotene-rich diet obtained from the pond they are living in.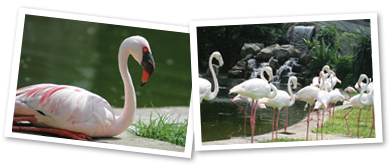 At this Flamingo Pond, you can also observe our majestic pelicans, another splendid yet curious bird species with its enormous bill and awkward heavy walk. This pond is also a favourite spot for other wading birds inhabiting the free-flight aviary especially early in the morning. You can clearly enjoy this picturesque sight while taking a break at our F&B kiosk, the Flamingo Kiosk.

Bulbul Land
---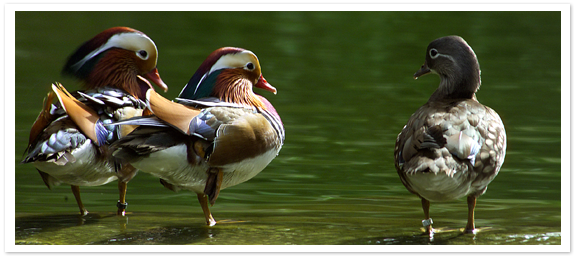 Stepping into this mini aviary will certainly evoke a sense of tranquility. Located next to the Flamingo Pond, Bul Bul Land houses primarily Bulbuls. Bulbuls are medium-sized, perching song birds. There are about 130 species of Bulbuls altogether, each unique in their own different way. Other residents of this aviary include the Asian Fairy Bluebird, Silver Pheasant and the Golden-breasted Starling.